People ID & Security Solutions
Secure Documents Issuance & Management Solutions
Trakterm offers a wide range of solutions for credential, identity and access management, covering such aspects as document design, biometrics capture management, and verification based on GET Group technologies.
In addition, GET Group pioneers the digital identity industry with mobile-based credentials encrypted using internationally certified algorithms.
Driving License Issuance
A web-based and modular solution designed to consolidate and simplify the various processes involved in vehicle registration and the issuance of driving licenses

Digital Identity Platform
GET Mobile ID provides a high-assurance digital identity such as an mobile driver's license (mDL) and other forms of mobile ID credentials on a user's mobile device, represents a convenient, secure and instant alternative to traditional physical identification documents, and utilizes formidable data encryption algorithms and communication security measures to combat fraud and reduce identity theft and the consequences thereof.

GET Identity
GET Identity is comprehensive card personalization software designed to provide organizations with the ability to create, manager, personalize and issue a wide range of card types.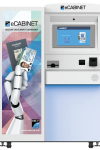 Secure Document Dispensing System
The eCabinet is an automated system for storing and dispensing Passport and ID documents. The system incorporates automated document recognition during the check-in process, and an intelligent check-out process including user identification, biometrics verification, document retrieval, and dispensing