Solutions d'identification des personnes et de sécurité
CP500 Secure ID Personalization Printer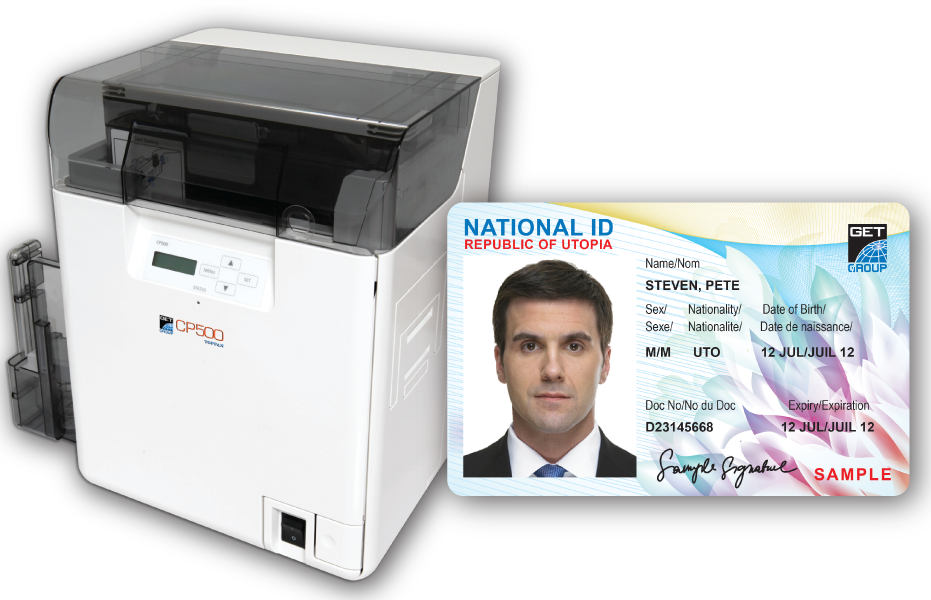 Overview
The GET CP500 card printer is a desktop 600dpi pigment ink retransfer card printing solution. The CP500 leverages GET Group's 30 years of proven experience in delivering highly secure passport and ID solutions for governments all over the globe with Toppan Printing Company's unparalleled innovative printing and security technology.
In a single desktop unit, the innovative CP500 combines the superior forensics of 600dpi pigment ink, the stunning print quality of retransfer technology and user-upgradeable features for personalization, to deliver the most secure card printing solution in the market today at a competitive cost. An optional lamination module is also available.
GET Group has a secure and audited sales process where all Toppan/GET CP500 printers inventory can only be sold through TRAKTERM in the specific territory and cannot be sold to any third party for non- governmental purposes.
CP500 empowers its users with:
600dpi pigment ink printing
Reverse retransfer printing
Upgradeable encoding features
Security of consumable supply chain
Standard USB 2.0 and Ethernet connectivity
Seamless integration with existing security systems
Specifications
CP500 SPECIFICATIONS SHEET

Standard Features

Print Method

Retransfer / Pigment

Resolution

600 dpi

Colors

Up to 16.7 million colors

§  Color: 256 steps (Image)

§  Monochrome (TEXT) (IMAGE)

§  UV: 256 steps (Image)

Print Speed

Batch Mode:

§  25 seconds per card / 144 cards per hour (CMYKP)*

§  41 seconds per card / 87 cards per hour (CMYKPKP transfer)*

§  16 seconds per card / 222 cards per hour (KP)*

Accepted Standard Card Sizes

CR-80 (85.6mm L x 54mm W), ISO 7810 Format, Type ID-1

Print Area

Over-the-edge on CR-80 cards

Accepted Card Type

PVC, PET, PC, and many more.

Input Card Cartridge Capacity

Max 250 cards with optional locking mechanism

Output Hopper Card Capacity

Max 250 cards

Card Cleaning

Replaceable cleaning roller

Memory Size

64 MB RAM

LCD Display

2 Line User-Friendly Control Panel

Print Mode

Single-Sided, Dual-Sided

Software Drivers

Windows® 2000 / XP / Server 2008 / Vista/ 7 (32 & 64 bit)

Connectivity

USB 2.0 (High Speed) and  Ethernet

Operating Temperature

50 to 95 F/10 to 35 C

Operating Humidity

20 – 80 % non-condensing

Supply Voltage

AC90-125V, 220-240V, 50/60Hz 

Power requirement

Autosensing single phase power – 100-240V AC

Physical Dimensions

435mm x 340 mm x 297 mm

Weight

42.9 lb (19.5 kg)

Standards

UL, CSA, CE-marking, CCC, ROHS

Warranty

2 Years
Options
Options
Ribbon

5 Panel CMYKP prints 500 surfaces
7 Panel CMYKPKP prints 350 cards
7 Panel (with UV) CMYKUvPpl prints 350 surfaces
9 Panel CMYKPplKPpl prints 270 cards
Custom ribbon configurations are available upon request

Retransfer Film

Standard clear, 500 card surfaces
Custom holographic (registered and non-registered wallpaper)

Add-On Units

CLM-20 Laser Engraver Unit
CL50 Dual-Sided Lamination Uni

Encoding

Magnetic stripe encoder ISO 7811, 3 tracks, HiCo/LoCo
Smart card contact encoding station ISO 7816
MIFARE ISO 14443 (13.56 MHz) contactless and ISO 7816 contact encoder